Infrastructures: Bridges and Viaducts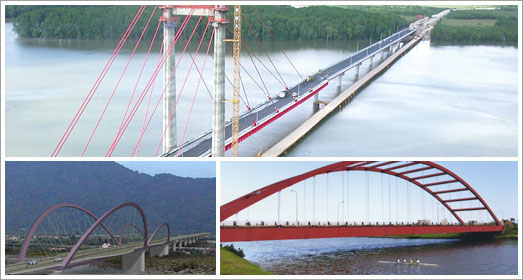 Bridges
Bridges are essential elements to many transportation systems, including rail, highway and road systems. Design schemes vary depending on various conditions such as terrain, geology, natural hazards and physical requirements (loading, span and clearance). In the past years, MAA has been devoted in bringing new technology into bridge design. Examples include the first usage of incremental launching method for Touchien Bridge, the second hybrid arch/cable type steel bridge, Nanfang Au Bridge, in the world, the first cable stayed bridge n Costa Rica, etc. Other than design, MAA also provided construction supervision and rehabilitation, inspection and repair services.
Viaducts
As cities develop, land space become limited for new construction and/or widening of existing roads and highways to meet increased demands of traffic flow. As a result, many cities adopt viaducts and elevated structures.

Bridges

Touchien and Fengshan Hsi River Bridges along Northern Second Freeway
Nanfang Au Bridge, Suao, Taiwan
Steel tied-arch Jei Jin Bridge, Ilan, Taiwan
Steel arch Lofu Bridge, Taoyuan, Taiwan
Taiya Bridge in Ilan, Taiwan
Shinwei Butterfly Bridge, Kaohsiung, Taiwan
Ocean Crossing Bridge, Penghu, Taiwan
Badger Avenue Bridge, Los Angeles, USA (1996 outstanding engineering award)
Wat Nakorn-In Bridge, Bangkok, Thailand
Tempisque Bridge, Costa Rica
Rupsa Bridge, Bangladesh
Highway Bridge in Kuala, Belait, Brunei


Viaducts

National Freeway No.1, Taiwan
East-West Expressways, Taiwan
Taiwan High Speed Rail (174 km viaducts), Taiwan
Kaohsiung Jing- Kuo Interchange Viaduct, Taiwan
Chungtou Highway, Taiwan
Link No.4 of No.1 Provincial Highway, Taiwan
Keelung Harbor West Coast Viaduct Rehabiliation, Taiwan
Bangkok-Chonburi New Motorway (80 km long, 13 interchanges), Thailand
Taksin Flyover Bridge, Bangkok, Thailand